Updated March 10, 2022
Quality
1.
What is the Luscii Platform?
Many health conditions require regular encounters between patients and clinicians in order to identify changes in a patient's state of health. During these encounters, clinicians will typically measure health parameters such as heart rate and weight, go through (validated) standardized questionnaires and educate and/or inform patients about their status and condition. Patients often find the practicalities of these face to face encounters inconvenient. For clinicians, the encounters are time consuming and changes in health status between encounters cannot always be properly detected.
Luscii has the purpose to support clinicians to manage their time efficiently and keeping high quality care. Luscii therefore develops, manufactures and markets digital solutions with the predominant aim to improve the communication and data exchange between patients and clinicians by making the communication independent of time and place.
Luscii offers two digital health solutions:
Luscii contact: a communication tool to connect patients and clinicians;
Luscii vitals: a "clinical engine" to generate alerts and a prioritized list of patients requiring attention.


What does the infrastructure look like?
The image below is a graphical representation of the product architecture of the Luscii Platform.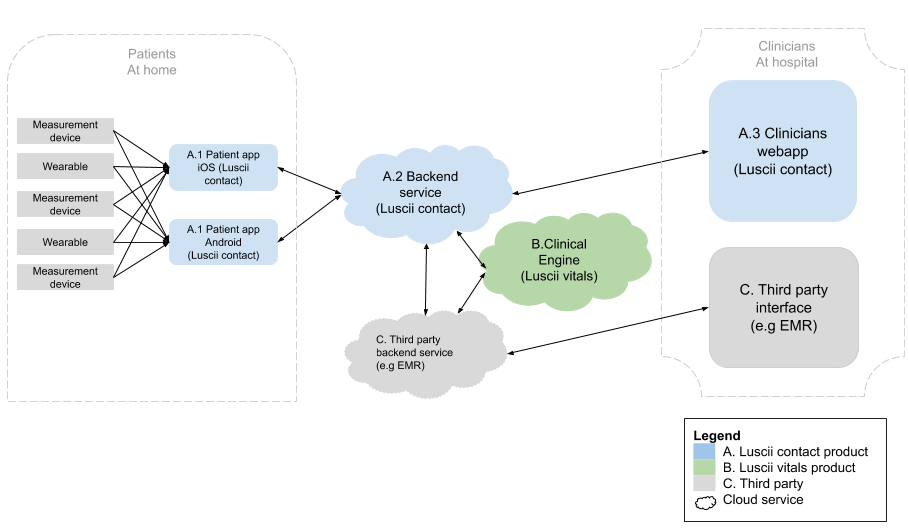 2. Quality management system (QMS)
Luscii has set in place a Quality Management System ('QMS') for the development, maintenance and post market surveillance of its medical device software, Luscii vitals. Luscii vitals is a CE-marked medical device risk class IIa under the Medical Devices Directive (MDD, 93/42/EEC), transitioning to the Medical Devices Regulation (MDR, EU 2017/745).
The QMS contains all processes to ensure that Luscii vitals is produced as a high quality medical device that consistently meet customer and applicable regulatory requirements. The QMS is certified according to the norms of ISO 13485:2016. The risk management for Luscii vitals is based on the principles of ISO 14971:2019, and DCB0129 for the UK. Our software lifecycle processes are built according to the norm of international standard IEC 62304, which specifies life cycle requirements for the development of medical devices and software within medical devices.
Luscii's quality certifications