Spend time on the right patients
Luscii is a smart remote monitoring platform that eliminates unnecessary check-ups while allowing you to keep a virtual finger on the pulse of your patients. After you have registered a patient with Luscii, the app regularly asks how things are going at home. The artificial intelligence in our platform analyses all the data. Does something require your attention? You will receive an instant message in your EHR.
But Luscii doesn't stop there. The app coaches your patients without costing you any time. Through planned information sessions and tools for self-care. Such as videos about living with an illness. And of course, Luscii provides step-by-step insights into the patient journey and helps prepare for a consultation or procedure.
More than 700 smart functions, developed with healthcare professionals and patients
The Luscii platform has been developed to support you and your patients. You decide how you want to use the platform and which features you want to take advantage of. We help with the implementation to get you set up as quickly as possible.
How Luscii supports your patients
The Luscii app gives your patients access to their own digital care plan, configured for their situation.
Todays overview
All actions planned by caregivers in one place, including reminders via push notifications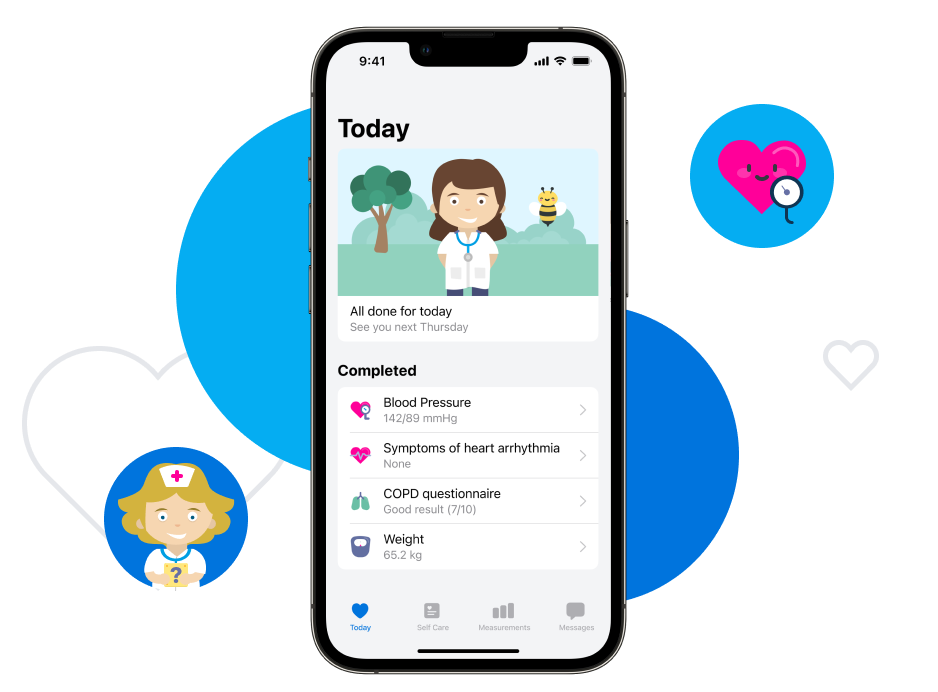 Vital values
Real-time data from connected home measurement devices, wearables or manual entries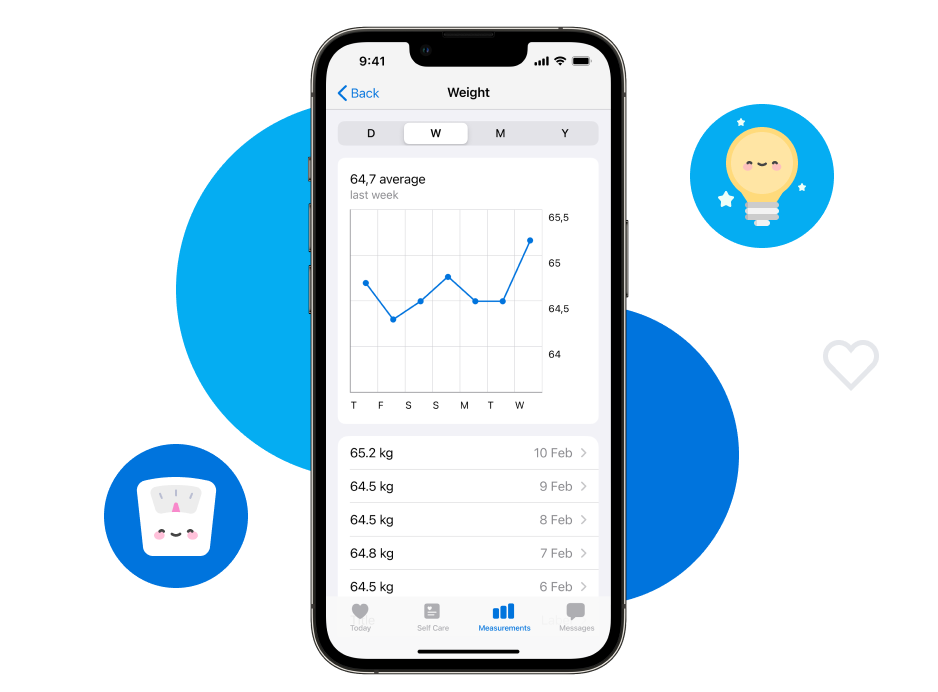 Information
Planned lessons, animations and links to brochures, reliable sites or care team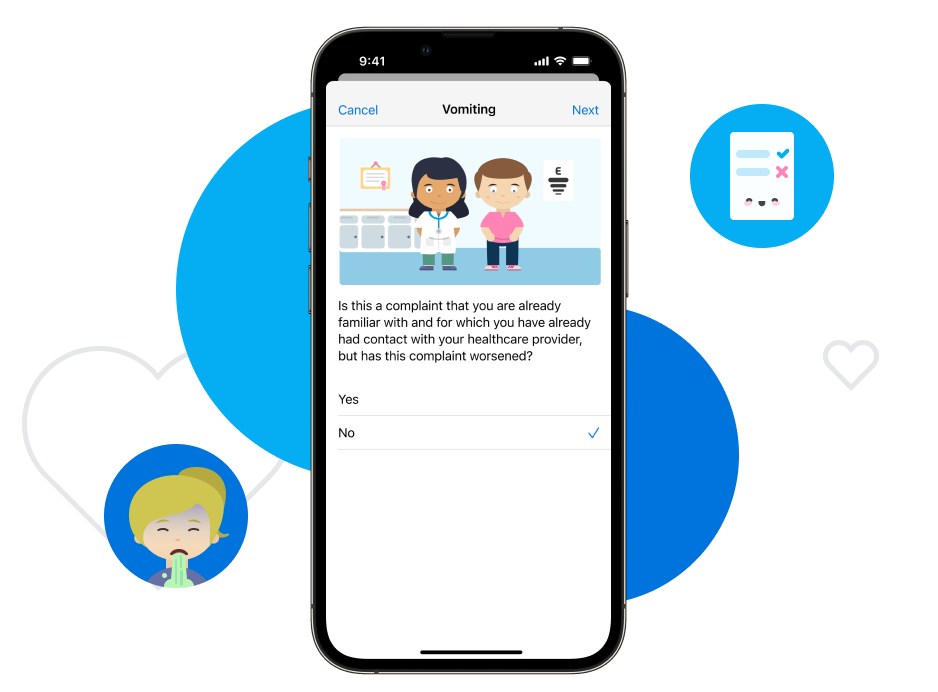 Self-help
Learn how to handle (e.g. lung attack action plan) and trigger self-help based on data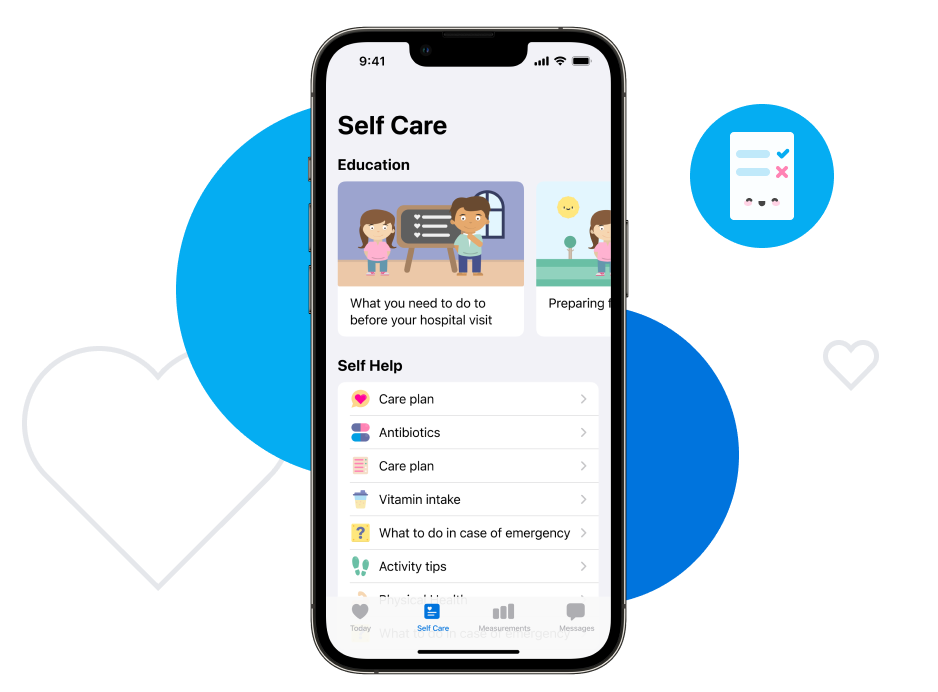 Treatment path
Insight into the patient journey with preparation for consultations or procedures by date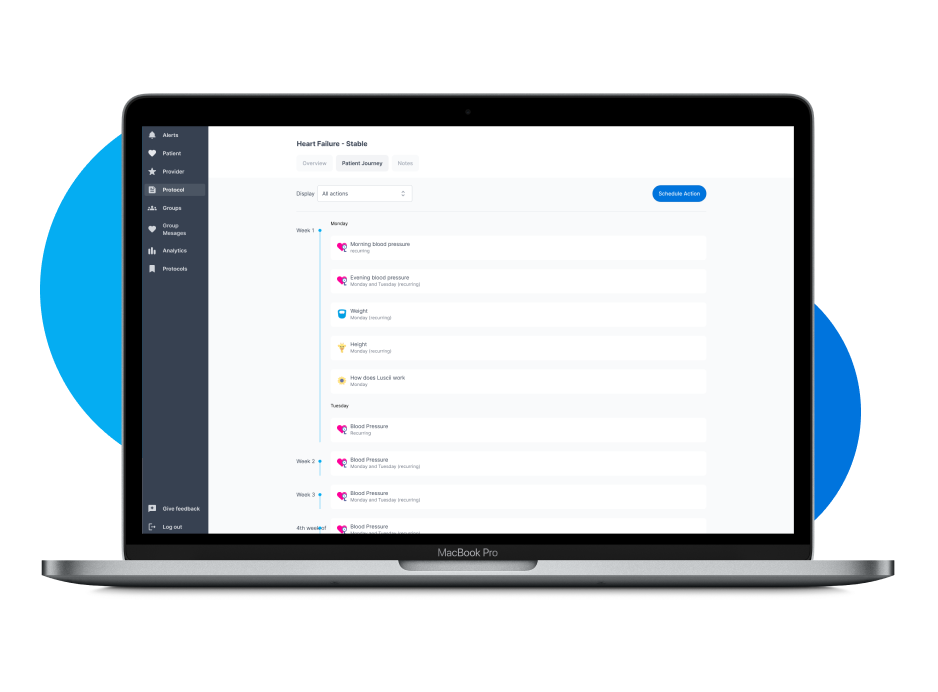 Questionnaires
Gain perspective on how things are going with scores, emojis and (validated) questionnaires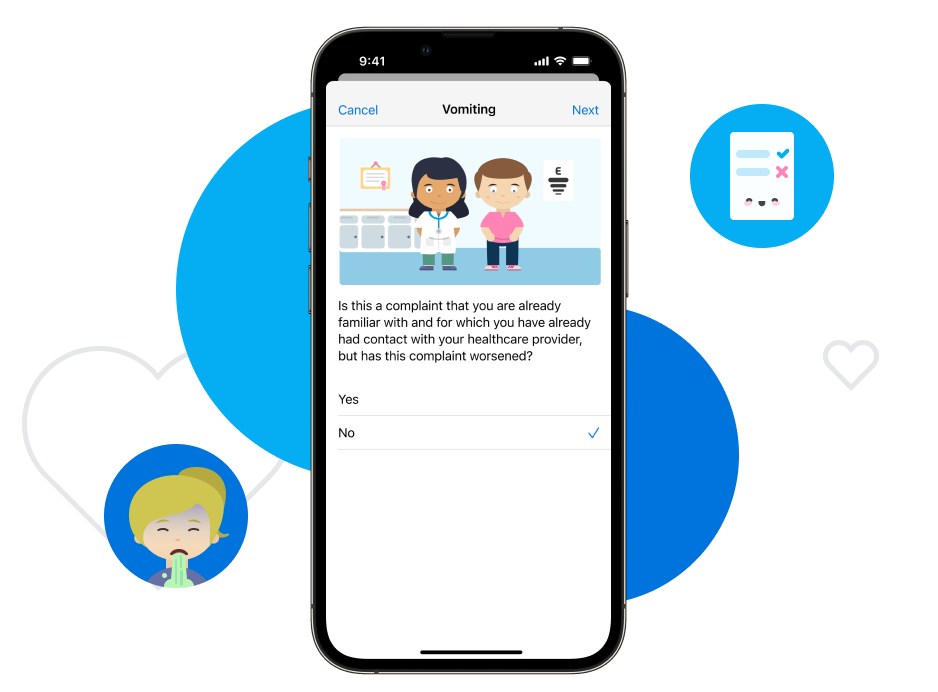 Remote contacts
Send integrated messages or make a video call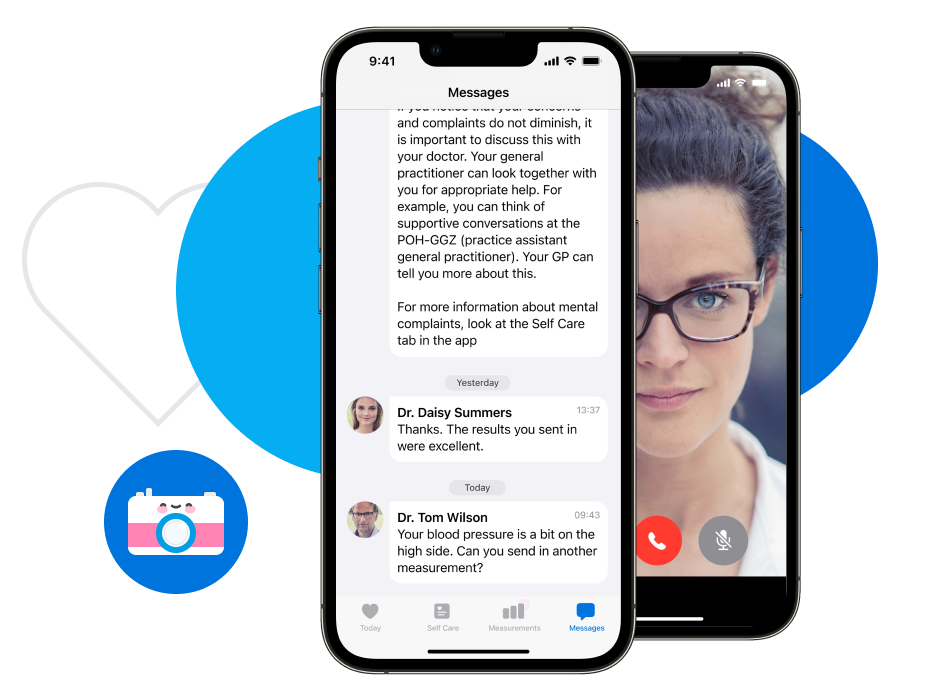 App connections
Access to connected third-party apps, such as patient portal or BeterDichtbij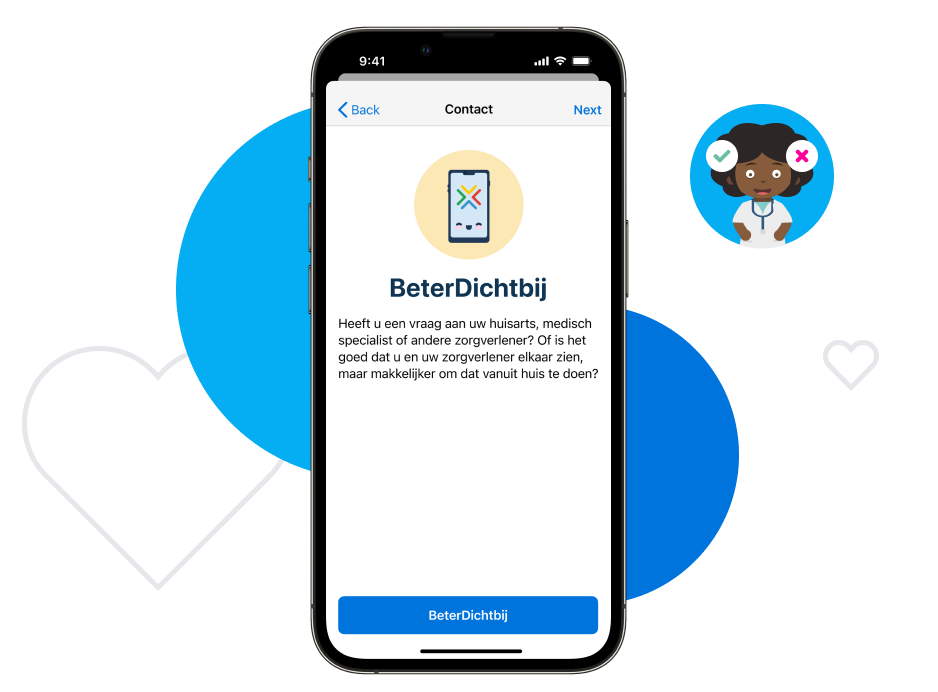 Luscii means one platform for your hospital. Or even the entire region..
Luscii is very flexible and straightforward. Patients and caregivers, young and old, rate Luscii 4.6 out of 5 stars. The app can be used in a variety of situations within the hospital and primary care.
How Luscii supports you as a caregiver
We support your clinical outlook with real-time data from you patients and smart alerts for those in need of attention.
EHR integration
Actions and alerts direct onto your EHR task list that can be handled without leaving your EHR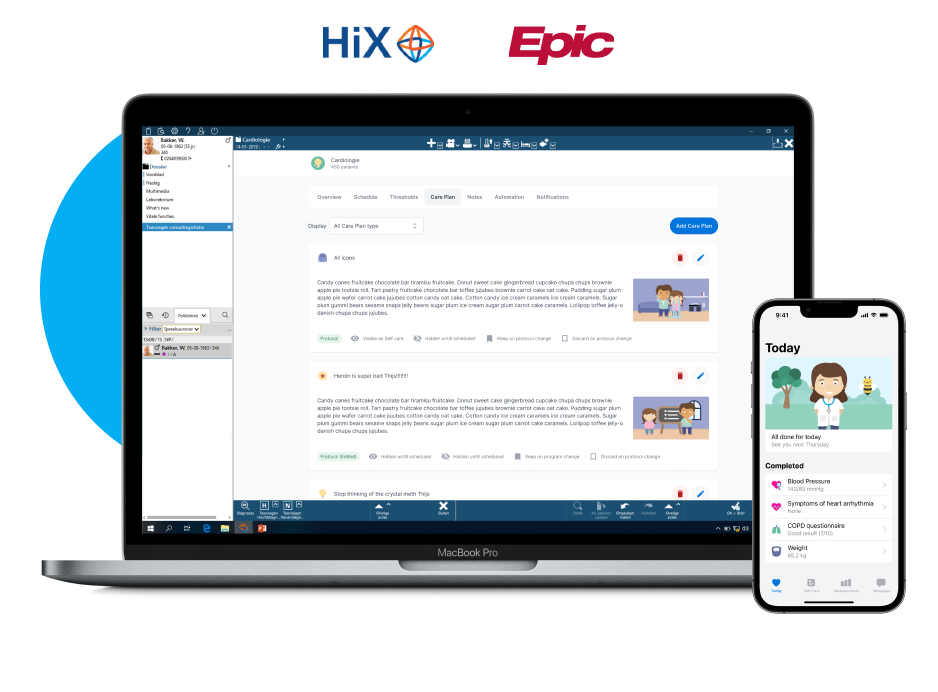 Population overview
Statistics of all included patients with details of the whole population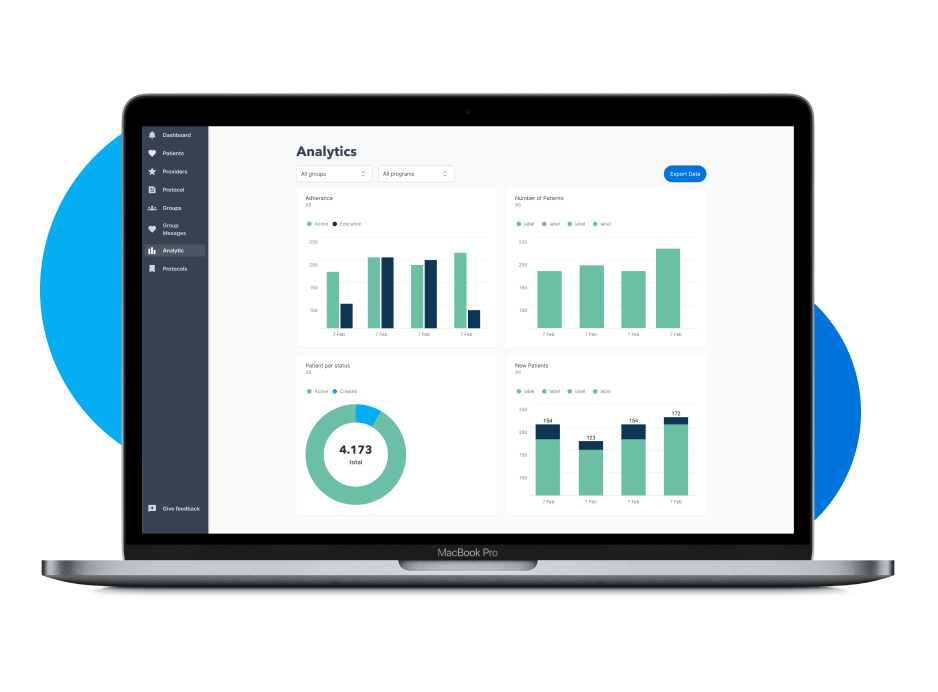 Patient chart
Relevant home monitoring data clearly displayed in graphics, trends and smart alerts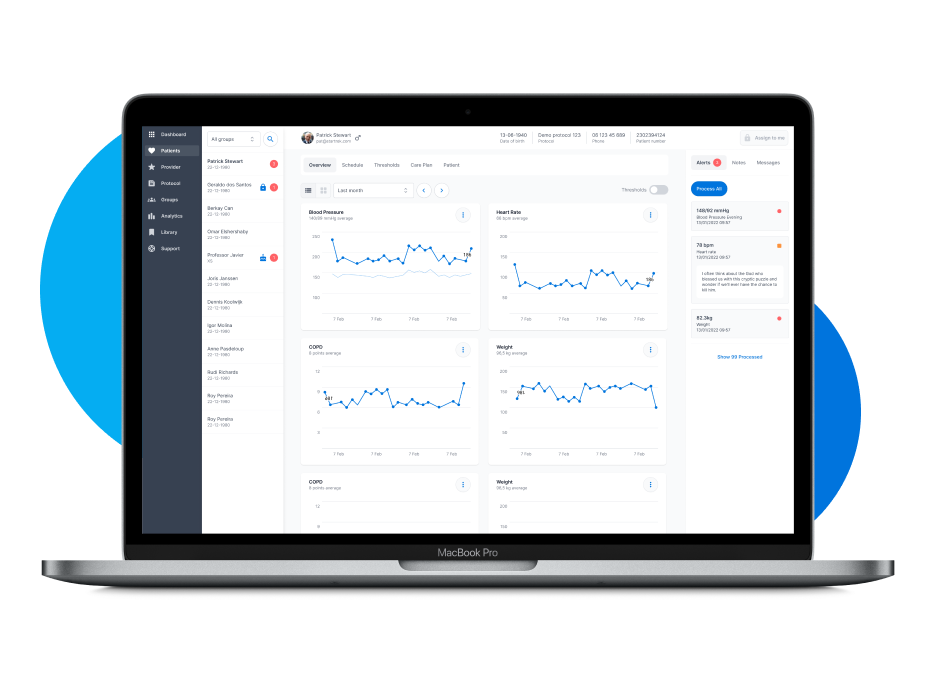 Smart messages
Send automated messages using AI, response templates or group messages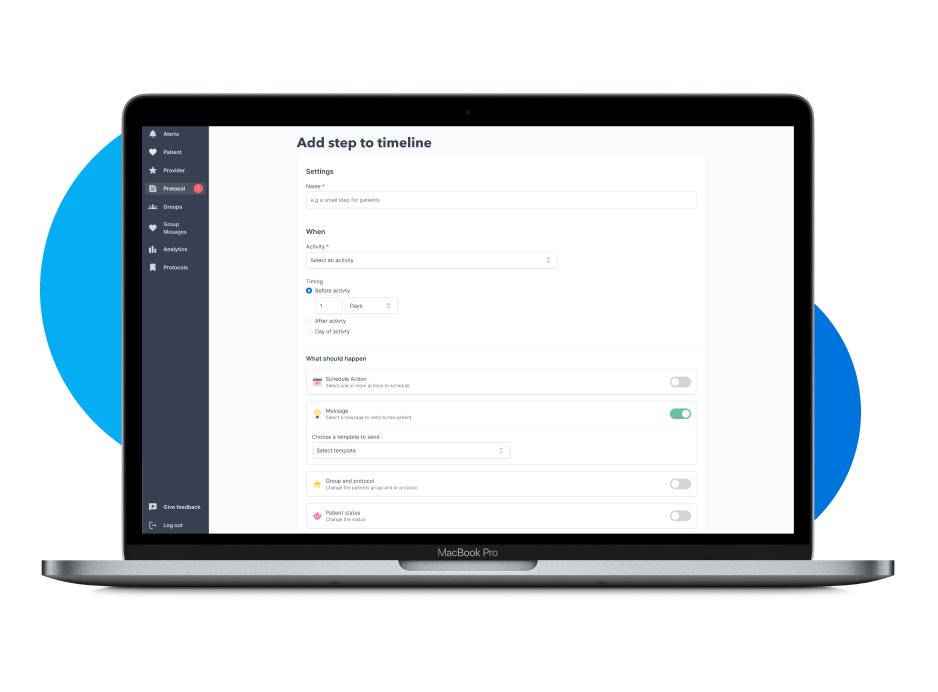 A.I. Alerts
Smart AI alerts based on calculations, trends, measurement combinations and more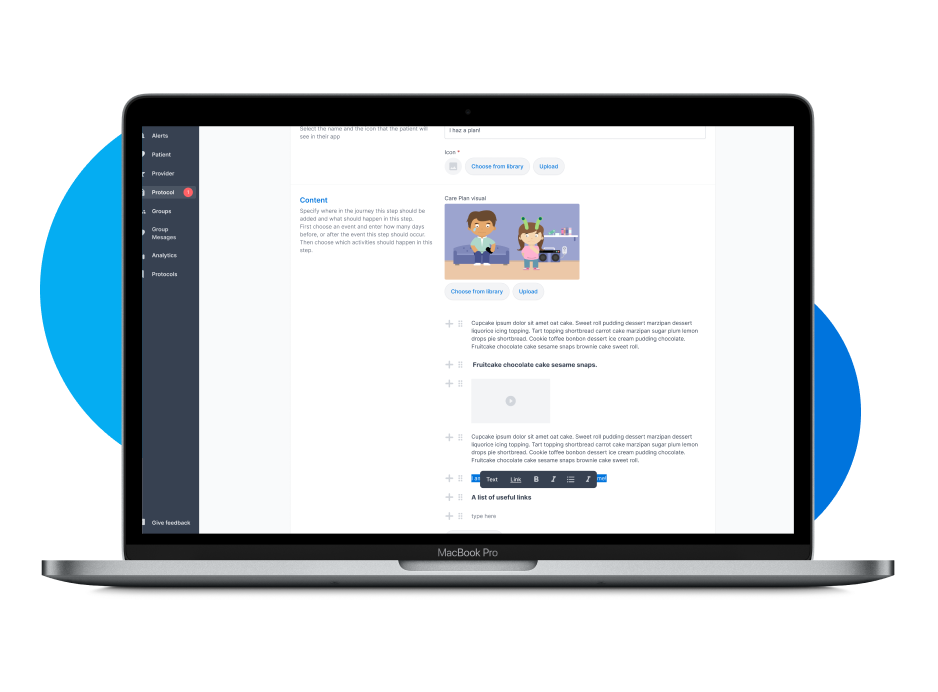 Care team
Automatic workflows for collaboration between primary care, medical call centre and outpatient clinic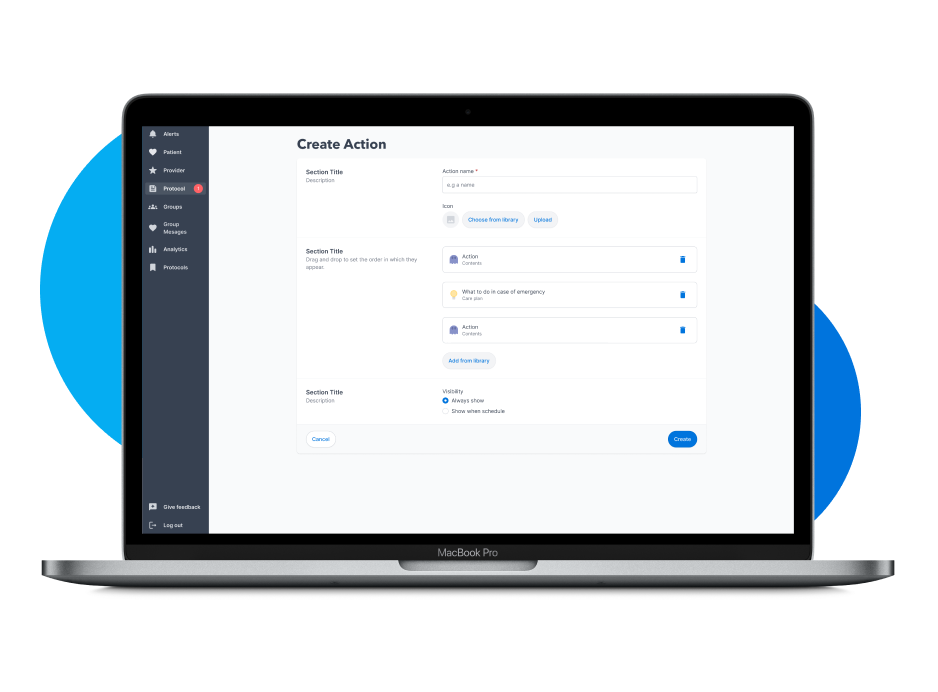 Dashboard
One overview of all your patients that need your attention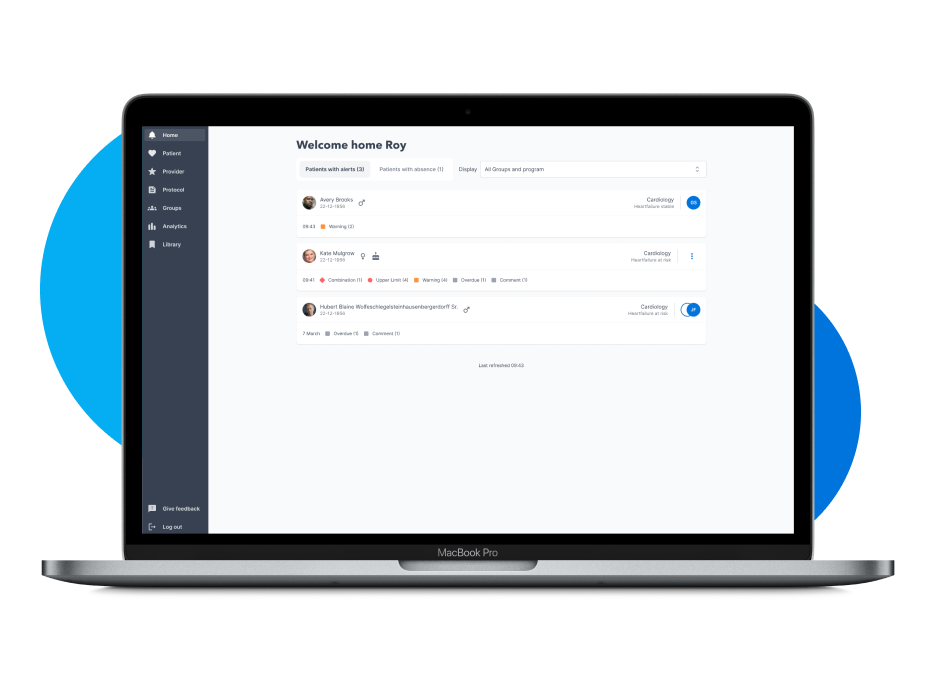 Care Plan
Insight into all planned actions with templates and content customised per patient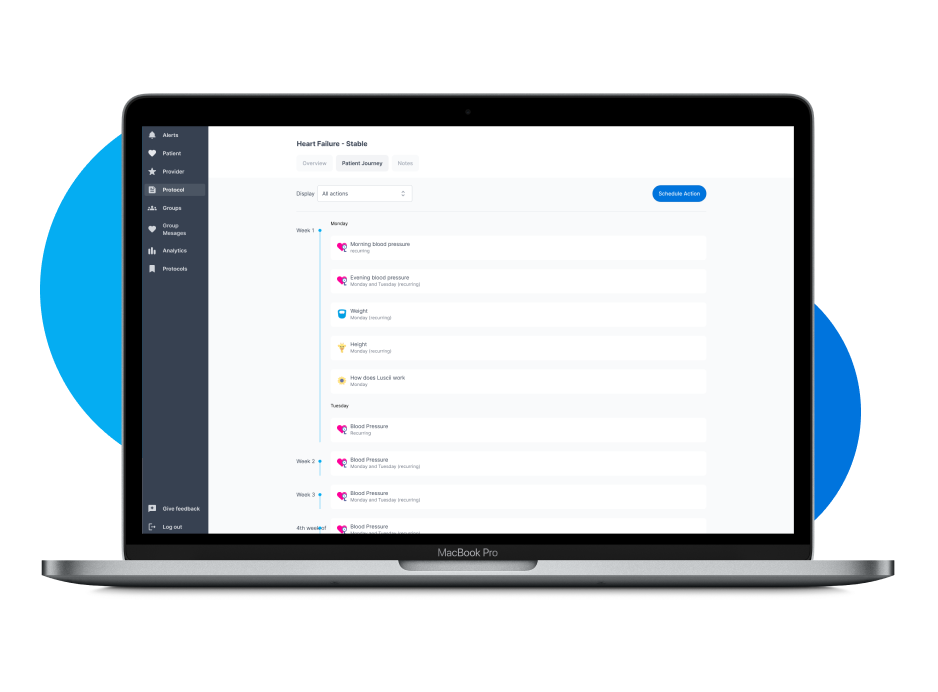 Easy start
Getting started with home monitoring is easy. A Luscii implementation specialist will help. And our support desk is on hand to answer any of your patients' technical queries. Thanks to the Luscii Library, you can also benefit from the experience of your peers. Here you will find successful home monitoring programmes for more than 40 medical conditions. Try them out instantly with one simple click.
Frequently asked questions
Luscii is a flexible platform for supporting home monitoring on a broad scale: home measurement, self-care, patient journey and contact. Frequently asked questions include:
Is Luscii safe?
Yes, Luscii is a CE Class IIa Medical Device and is certified for information security (ISO27001/NEN7510/ NEN7512). Luscii also works in accordance with a quality management system (ISO13485). We enter into a processing agreement with the healthcare organisation, which prohibits us from doing anything with the data.
How soon can I start using Luscii?
Most healthcare organisations start using Luscii within a month of signing the contract. If necessary, it can be even quicker. Like with COVID-19 at Home, where we connected a new hospital in just three days. Our Luscii specialists are on hand to help and have a wealth of experience. So no one has to reinvent the wheel.
Did you know that Luscii is offering more and more self-implementations (a standard package enabling you to set up Luscii yourself) and group implementations? In such cases, an implementation is tackled together with a few care organisations or hospitals, which allows you to learn from and inspire each other.
What does Luscii cost?
Luscii works with one licence per specialism, which means Luscii can be used for all patients and any care path within that specialism. Feel free to check out the Luscii Library or get in touch with Chris.
Can Luscii be integrated into the EHR?
Luscii can be integrated into leading EHRs, such as HiX and EPIC. Luscii features an interface that enables integration with other EHRs and source systems too.
What about measuring devices?
Luscii can also provide the measuring equipment, but this is not compulsory. Many hospitals opt for Bring Your Own Device, which the Luscii app fully supports (over 100 measuring devices from different suppliers can be connected in various ways).
If you want Luscii to provide measuring equipment, this can be requested when registering a patient, for example, if a blood pressure monitor is required. Luscii will then deliver the device to the patient's home within 48 hours.
Can elderly patients use Luscii too?
Yes, we support patients of all ages and have made the user experience as simple as possible. Luscii is rated 4.6 out of 5 stars in the Appstore and Google Play Store. Our ORCHA score is 80%. If a patient is still struggling, our support department is on hand to help.
Can I customise Luscii for each patient?
Yes, Luscii can be customised on three levels:
1. Luscii can be set up per care path. You can choose relevant measurements, questionnaires, scores, self-care modules and determine when Luscii needs to send an alert (e.g. for a decline in trends, a combination of factors or overwriting values).
2. Luscii contains protocols within a care path. You can distinguish between different teams (e.g. primary or secondary care), offer a range of variants for early discharge, stable patients, titration or even for self-care. Luscii automatically adapts to the situation.
3. Luscii can be adjusted per patient. For instance, with individual thresholds or an extra measurement or questionnaire, educational lesson or setting that is relevant for the patient.
Learn more about Luscii
Experience for yourself just how useful Luscii can be for your care path. Try it out in the Luscii Library. Or arrange a demonstration with a Luscii specialist and have all your questions answered.